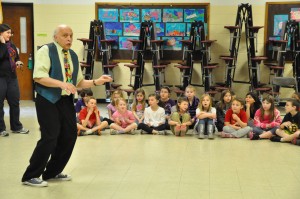 Stories have the power to change lives. As educational tools, stories and storytelling play a vital role in bringing lessons to life and in supporting learning standards, particularly in language arts and social studies.
Working as a storyteller in public schools has been a vital part of George's life for many years. Through storytelling, he's been able to connect with children from a rainbow of backgrounds. He's also been able to support the efforts of classroom teachers to develop their students' literacy and social skills.
George's storytelling programs
• Enrich the curriculum.
• Help develop students' understanding of traditional literary forms.
• Use myths, fables, and folktales to illustrate differences and similarities
among cultures.
• Support learning standards.
SCHOOL PERFORMANCES
For school performances, George is equally at home performing in individual classrooms or for large assemblies, although he prefers the more intimate setting of a classroom, school library, or resource room. When assemblies are involved, George recommends that audience size be limited to around 200 students. George has found that his most successful school visits are those in which he performs for a specific grade or grouping of grades rather than for the entire student body.
The content of George's school performances will vary depending on the grade levels of the students. Whenever feasible, he will select stories  related to curriculum issues he has discussed with classroom teachers.
To enable students to get the most educational value out of his storytelling programs, George provides teachers with a set of relevant preparatory materials. He also offers follow up storytelling workshops, in classrooms, for students who have attended the performance.
STORYTELLING PERFORMANCES FOR GRADES K-5:

One Tree, Many Branches: A program of age-appropriate traditional folktales that celebrate both the similarities and the differences among world cultures.

Chinese Folktales: George's program of Chinese folktales will complement and enrich a World Geography unit on China and give students a unique window on the ways of traditional Chinese society.

Legendary Tall Tale Heroes of America: Stories in this program feature bigger-than-life heroes and heroines from a variety of North American storytelling traditions (including African, Hispanic, European, and Native American sources).
STORYTELLING PERFORMANCES FOR GRADES 6-8:

Story Caravan: Fables and Folktales from the Middle East: In a time of conflict and misunderstanding, these stories counter stereotypes and introduce students to the richness, humor, and wisdom of Middle Eastern folklore.

Marvelous Myths from Around the World: These imaginative, thought-provoking tales take young audiences back to a time when people used stories to make sense of the world around them.

Medieval Medley: Beowulf, Sir Gawain and the Green Knight, Saint George and the Dragon — these are some of the colorful and intriguing characters to be found in this enchanting program of tales from the Middle Ages.