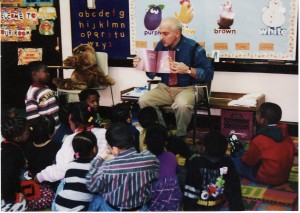 George's storytelling residencies have one essential goal: to support and enrich learning standards in language arts and social studies. In the passages below, George describes some of the ways in which he sets up and manages a storytelling residency:
"Before I begin a storytelling residency, I meet with teachers to find out what topics or themes they intend to cover in their language arts or social studies curriculums. Together we determine what would be a useful focus of my residency — that is, what types of stories and follow up activities would not only appeal to the students but also reinforce learning standards and connect with the curriculum.
"In the course of a residency, I use storytelling as a way to develop students' basic literacy skills. In a typical class, I begin by introducing and telling a short, grade-appropriate story. Then I invite students to demonstrate their understanding by responding orally to key questions and to connecting the story to events and experiences in their own lives.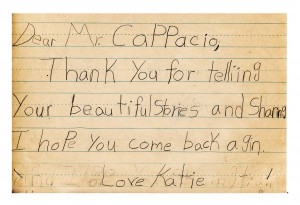 "Later in the lesson, students participate more fully in the learning process through a variety of extension activities such as retelling the story in their own words, creative dramatization, or writing stories of their own — stories that relate in some way to the material I have presented."
George's storytelling residencies culminate in a final project that allows students to demonstrate what they have learned, and also provides classroom teachers with a rubric for assessing the value of the program. The final project might be a book of stories the students have written and illustrated; a dramatization of one or more stories; or storytelling performances by the students themselves, working on their own, with a partner, or in a small group.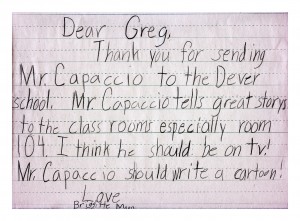 "George has a magical way of engaging the children.. His storytelling program helped them with their English, increased their ease and spontaneity at oral presentations, increased their memory and sequencing abilities . . . and tied in well to BPS language arts standards." –Kathleen O'Brien, Ellis School, Roxbury, MA
Over a 17-year period, George developed and implemented a number of school residencies as a lead artist educator with Arts in Progress, a Boston-based arts organization. The residencies varied in duration from six weeks to an entire school year; served students in grades K-9; and involved storytelling, theater arts, and creative writing, though primarily storytelling.
The following list is a sample of George's residencies:
Agassiz Elementary School, Jamaica Plain, MA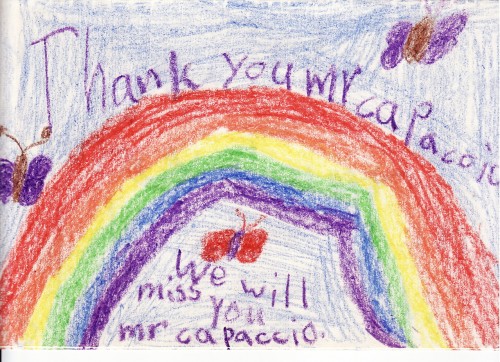 • Storytelling: September – June K-5
• Storytelling/creative writing: September – June K-5
• Storytelling/creative writing: September – June K-5
Dever Elementary School, Boston, MA
• Storytelling: January – June K-5
• Storytelling: January – June K-5
Lafayette Middle School, Everett, MA
• *Storytelling/radio theater: February – June Gr. 6-8
*For these residencies, George focused on ancient Greek civilization and the Middle Ages; wrote two original radio plays; and directed his students in all facets of radio theater production. The plays served as the vehicles for teaching students about the particular cultures they were studying.
Kennedy Elementary School, Somerville, MA
• *Storytelling: January – June K-5
• *Storytelling: January – June K-5
*For students in grades 4-5 at the Kennedy School, the storytelling program supported the social studies curriculum and its focus on cultures of the ancient world, like Greek and Egyptian civilizations.
"I would like to take the opportunity to applaud the special talents of Mr. George Capaccio. Through a special grant, we were able to bring in Mr. Capaccio as a storyteller for our K-8 school. As both a parent of three students and employed as a kindergarten teacher at the Kennedy, I was able to enjoy his services in a variety of ways. Mr. Capaccio's storytelling went on in my son's kindergarten. Being a shy and quiet child, my son Anthony shared word-for-word the stories he had heard . . . [and was able to  get up] in front of his classmates. It takes a special person to get all the students to participate. Mr. Capaccio is that person!
"Most parents don't hear from their fifth grade sons that school was cool. When Mr. Capaccio started storytelling in both of my sons' fifth grade classrooms, I was able to envision as well as share their enthusiasm [for] storytelling at a higher level. As a final assignment, he invited the fifth grade students to participate in making their own versions of a story [he had presented]. This activity brought out a very creative side [in] both my sons. Their stories were so different as well as their techniques for sharing their version. This creativity came from the various techniques Mr. Capaccio brought to their class.
"Mr. Capaccio tied his stories from around the globe to our current curriculum units being worked on in the kindergarten program. His enthusiasm for his work, along with his knowledge, [inspired] students to be very attentive and excited about his stories. He worked closely with myself to ensure parents were informed of his sessions as well as to make homework suitable and successful.
"I recommend Mr. Capaccio as a storyteller. He is able to work with many age levels as well as disciplines." — Roxane Scrima, kindergarten teacher, Kennedy School, Somerville, MA
McKay Elementary and Middle School, East Boston, MA
• *Storytelling: October – June K-5/6-8
*George's storytelling programs for this school supported both language arts and social studies curriculums.
Ellis Elementary School, Roxbury, MA K-5
• Storytelling: October – June
Manning School, Jamaica Plain, MA
• Storytelling: January – May K-5
Quincy Dickerman School, Roxbury, MA
• Storytelling: October – January K-2
Youth Arts Corps
*Storytelling: June – August ages 14-18
This program was part of a larger project sponsored by the Mayor's Office of Cultural Affairs and implemented by Esther Kaplan, the former Executive Director of Arts in Progress. The project brought together young people from different cultural backgrounds and involved them in their choice of art disciplines for the entire summer. The participants were given a weekly salary as they learned and practiced their particular art forms. George met with his group of storytelling "apprentices" for five hours a day, five days a week for five weeks. At the end of the program, the youngsters performed original and traditional stories before all the participants in the Youth Arts Corp project.